Olympus BH
Part list
Model
TODO: add standard metallurgical
Image
Name
Description
Notes

Source: [BH microscope, cover] [[BHA]
Bottom illumination, removable nosepiece
BHB
Bottom illumination, fixed nosepiece
BHC
Bottom illumination, fixed nosepiece, integrated light source
BHMJ-02
Epi-illumination, sliding stanmd, BF, monocular
BHMJ-22
Epi-illumination, sliding stanmd, BF, binocular

Source: [instruction BHMJ/-N, 3] [[BHMJ-42]
Epi-illumination, sliding stanmd, BF, trinocular
BHMJ-02-N
Epi-illumination, sliding stanmd, BF/DF, monocular
BHMJ-22-N
Epi-illumination, sliding stanmd, BF/DF, binocular
BHMJ-42-N
Epi-illumination, sliding stanmd, BF/DF, trinocular
Objective
M is BF only. Neo are BF/DF. All are M25 threaded
Illuminator
Image
Part #
Type
Description
Notes
BH-MA
Illuminator (vertical)
Brightfield
BH-RLA
Illuminator (vertical)
Brightfield and darkfield

Source: [BH microscope, 9] [[BH-LH]
Lamphouse
Tungsten, 30W
Pre-centered
BH-LHM
Lamphouse
Tungsten

Source: [BH microscope, 9] [[BH-LSH]
Lamphouse
Halogen 100W
Centerable

Source: [BH microscope, 9] [[BH-LH]
Lamphouse

Source: [BH microscope, 9] [[LS30]
Bulb
6V, 30W tungsten

Source: [BH microscope, 9] [[LS15]
Bulb
6V, 15W tungsten
FK5X
Eyepiece, photo
5x
TF
Power supply
Transformer
voltage range?
45C
Filter
for what?

Source: [BH microscope, 9] [[jc12v 100W]
Bulb
Halogen
Observation tube
Image
Part #
Type
Description
Notes
CH-M045
Observation tube
Monocular

Source: [BH microscope, 11] [[BH-SWTR]
Observation tube
Binocular w/ photo?

Source: [BH microscope, 11] [[BH-BI30]
Observation tube
Binocular, 30 degree

Source: [BH microscope, 11] [[BH-BI45]
Observation tube
Binocular, 45 degree

Source: [BH microscope, 11] [[BH-TR30]
Observation tube
Binocular, 30 degree (w/ photo)

Source: [BH microscope, 11] [[BH-TR45]
Observation tube
Binocular, 45 degree (w/ photo)
BiWF10X
Eyepiece
HEP, paired

Source: [BH microscope, 15] [[EMM-VI]

Source: [BH microscope, 15] [[PM-10-35A]

Source: [BH microscope, 15] [[PM-10-35L2A]

Source: [BH microscope, 15] [[PM-10-35M]

Source: [BH microscope, 15] [[PM-6]
Misc
Image
Part #
Type
Description
Notes
[[BH-RE]
Nosepiece
Quintuple
Neo objectives (M25)

Source: [BH microscope, 9] [[BHA-F]
Stand
Bottom illumination, removable nosepiece

Source: [BH microscope, 9] [[BHB-F]
Stand
Bottom illumination, fixed nosepiece

Source: [BH microscope, 9] [[BHC-F]
Stand
Bottom illumination, fixed nosepiece, integrated light
Lowest cost?

Source: [BH microscope, 13] [[BH-SV]
Stage

Source: [BH microscope, 13] [[BH-CD]
Condenser
Abbe

Source: [BH microscope, 13] [[BH-AAC]
Condenser
Ach/Apla
BHMJ-ST, BHMJ-F
Body/base
FK3.3X
Photo eyepiece
32.5C
Blue filter

Source: [BH microscope, 11] [[AH-CA]

Source: [BH microscope, 11] [[AH-FA]

Source: [BH microscope, 13] [[BH-DCD]

Source: [BH microscope, 13] [[BH-DCW]

Source: [BH microscope, 13] [[BH-PC]

Source: [BH microscope, 13] [[BH-SH]

Source: [BH microscope, 13] [[BH-SWC]
BHA/BHB/BHC configurations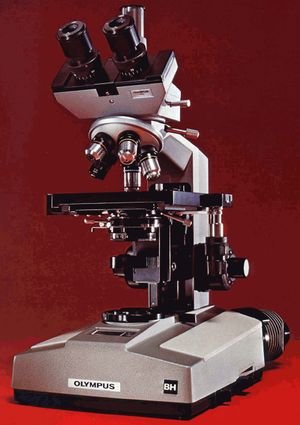 Above: probably a BHA. Source: [BH microscope, cover]
Source: [BH microscope, 18]
NOTE: -1, -2, etc are my notation for the color columns in [BH microscope, 18]
| Part # | Type | Description | BHA-1 | BHA-2 | BHA-3 | BHA-4 | BHB-1 | BHB-2 | BHB-3 | BHB-4 | BHC-1 | BHC-2 |
| --- | --- | --- | --- | --- | --- | --- | --- | --- | --- | --- | --- | --- |
| BHA-F | Stand | | Y | Y | Y | Y | | | | | | |
| BHB-F | Stand | | | | | | Y | Y | Y | Y | | |
| BHC-F | Stand | | | | | | | | | | Y | Y |
| BH-RE | Nosepiece | Quintuple | Y | Y | Y | Y | | | | | | |
| BH-LH | Lamphouse | | Y | Y | Y | Y | Y | Y | Y | Y | | |
| LS30 | Bulb | 6V, 30W | Y | Y | Y | Y | Y | Y | Y | Y | | |
| LS15 | Bulb | 6V, 15W | | | | | | | | | Y | Y |
| BH-BI45 | Observation tube | 45 deg binocular | | Y | | Y | | Y | | Y | | Y |
| BH-TR45 | Observation tube | 45 deg trinocular | Y | | Y | | Y | | Y | | Y | |
| BH-SV | Stage | | Y | Y | Y | Y | Y | Y | Y | Y | Y | Y |
| BH-CD | Condenser | Abbe | | | Y | Y | Y | Y | Y | Y | Y | Y |
| BH-AAC | Condenser | Ach/Apla | Y | Y | | | | | | | | |
| | Objective | Achromat 4x, 10x, S-40x (spring), S-100x (spring, oil) set | | | Y | Y | | | Y | Y | Y | Y |
| | Objective | Plan achromat 4x, 10x, 40x (spring), 100x (spring, oil) set | Y | Y | | | Y | Y | | | | |
| | Objective | Plan achromat 20x (spring) | Y | Y | | | | | | | | |
| BiWF10X | Eyepiece | HEP, paired | Y | Y | Y | Y | Y | Y | Y | Y | Y | Y |
| FK5X | Eyepiece, photo | 5x | Y | | Y | | Y | | Y | | Y | |
| 45C | Filter | for what? | | | | | | | | | | |
| | Bulb | Spare bulb (2x) | Y | Y | Y | Y | Y | Y | Y | Y | Y | Y |
| | Fuse | Spare fuse (2x) | Y | Y | Y | Y | Y | Y | Y | Y | Y | Y |
| | Oil | Immersion oil | Y | Y | Y | Y | Y | Y | Y | Y | Y | Y |
| | Cover | Vintyl dust cover | Y | Y | Y | Y | Y | Y | Y | Y | Y | Y |
BHMJ configurations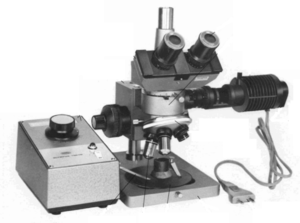 Above: A BHMJ, probably a BHMJ-42. Source: [instruction BHMJ/-N, 3]
Source: [instruction BHMJ/-N, 2]
-N adds darkfield
Part #
Type
Description
BHMJ-02
BHMJ-22
BHMJ-42
BHMJ-02-N
BHMJ-22-N
BHMJ-42-N
BHMJ-ST, BHMJ-F
Body/base
Y
Y
Y
Y
Y
Y
BH-RE
Nosepiece
Y
Y
Y
BH-NRE
Nosepiece
Y
Y
Y
BH-MA
Illuminator (vertical)
Brightfield
Y
Y
Y
BH-RLA
Illuminator (vertical)
Brightfield and darkfield
Y
Y
Y
CH-M045
Observation tube
Monocular
Y
Y
BH-BI45
Observation tube
Monocular
Y
Y
BH-TR45
Observation tube
Binocular (w/ photo)
Y
Y
BH-LHM
Lamphouse
Tungsten
Y
Y
Y
Y
Y
Y
LS15
Bulb
15W tungsten
Y
Y
Y
Y
Y
Y
TF
Power supply
Transformer
Y
Y
Y
Y
Y
Y
M5X
M10X
M20X
M40X
Objective
Set
Y
Y
Y
Neo5X
Neo10X
Neo20X
Neo40x
Objective
Set
Y
Y
Y
High eyepoint BiWF10X,paired eyepiece
Y
Y
Y
Y
High eyepoint WF10X eyepiece
Y
Y
FK3.3X
Photo eyepiece
Y
Y
Stage plate
Y
Y
Y
Y
Y
Y
Stage clips
Y
Y
Y
Y
Y
Y
Eyepiece caps
Y
Y
Y
Y
32.5C
Blue filter
Y
Y
Y
Y
Y
Y
Vinyl dust cover
Y
Y
Y
Y
Y
Y
Measurements
Taken from Andrew Zonenberg's BHM unless otherwise stated.
Base plate
Attaches to microscope frame with four M6x1.0 screws, 15 mm long, in a 2x2 hole pattern. Screw heads are 9.9 mm OD.
Base plate has 6.7mm clearance holes, scope body is tapped.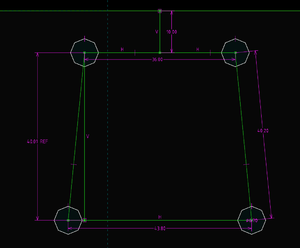 Approx 135 mm front-to-back from center of microscope frame to sample.
References