Objective
Mitutoyo objectives are often considered the best. I have a set of them as well as Olympus Neo SPlan. Both seem to be pretty high quality objectives and unless you really need the extra correction the Neo SPlan are probably good enough. However, the Mitutoyo are also strain free long working distance while keeping a high NA.
Storage
The most common way to store objectives is to use a plastic vial with the lid threaded for the objective. Some example containers: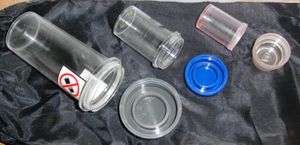 From left to right: Mitutoyo w/ M26 threaded top, Olympus w/ RMS threaded top, B&L w/o threading. The B&L is an older style where the container was sized to rest just inside without falling. These have been phased out as the threaded tops are much more universal.
Polarization
Strain effects glass polarization. Example using polarized light on normal objectives: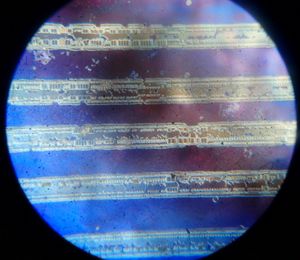 Manufacturers of long working distance objectives
TODO: add sample working distances
Include:
Mitutoyo (ex: M Plan Apo series): makes quite a wide selection, including IR and UV. High quality
Seiwa: have not used them but hear they are high quality
Olympus (ex: NeoSPlan ULWD): less working distance than Mitutoyo but still good
Nikon (ex: T Plan EPI SLWD): have not used but imagine they are around (maybe better, maybe worse) Olympus quality
Bausch & Lomb (ex: stereozoom "industrial" objectives): makes RMS finite LWD objectives. Less working distance than Mitutoyo but still good. Long in appearance

I don't think these are made anymore

United States Microscope Company (USMC/USMCO)

Above shows that while not as plan as Mitutoyo (as shown through focus stacking imperfections), reasonably good per-picture

Chinese unknown brand (Ex: MA121204 50x Infinity Corrected Long Working Distance Objective): I have the 2x version of one of these and it produces green images as if they used soda glass. The box for the 50x (was a picture on eBay) states "Parafocal 95 mm, WD 20.5 mm". If true, the working distance is still impressive for 50x if it still has reasonable quality. Similar in appearance to Seiwa objectives (or was it Sigma koki?)

Possibly Sigma Koki (labeled by one eBay seller), but not 100% sure that not a knock-off
There is a similar objective on eBay that is "SIGMA KOKI" labeled on it. However, I don't see any on their website that look like it
Could also be View Solutions, but they just may be a distributor

Nanjing BW Optics: unknown quality
References