ISI Super IIIA

The third Super-Mini-SEM, ISI marketing shortened it to simply Super IIIA. However, the schematics still refer to it as the SMS-IIIA.
See SMS family page for schematics
JM has one
"SIII-A(K) (1976)"
Filament
Good overview of SEM filament types: Short Course.pdf http://www.reu.pdx.edu/SEM Short Course.pdf
Trying to find replacement filaments. Takes the ISI three prong type
Prices as of 04/21/2014
Vendor
Item #
Description
Price/pack
Qty/pack
Qty/each
Notes
Ted Pella
1426
ISI / ABT / Topcon 3-pin
425.00
10
42.50
Electron Microscopy Sciences
81038

STANDARD LOOP FILAMENTS for: ISI Instruments, ABT, Topcon

New Filament, 3-prong
416.00
10
41.60
Electron Microscopy Sciences
81038-R

STANDARD LOOP FILAMENTS for: ISI Instruments, ABT, Topcon

Rebuilt Filament, 3-prong
1
32.00
SPI Supplies
5232N-BA
Topcon/ISI 3-pin
525.49
10
52.55
SPI Supplies
5232RB-AB
Topcon/ISI 3-pin (rebuilt)
1
41.57
EB Sciences
ISIE
Standard loop, 3 Prong
405.00
10
40.50
EB Sciences
ISIE
AR loop, 3 Prong
455.00
10
45.50
Fisher Scientific
[&xrefPartType=From&savings=0.0&xrefEvent=1398144201666_2&searchType=PROD&hasPromo=0 50-290-87]
NEW FILAMENT 3-PRONG
509.60
10
50.96
Soquelec
A20135
ISI (2-prong, new)
1
68.10
NOTE: 2 prong for comparison
Soquelec
A20140
ISI (2-prong, rebuilt)
1
39.00
NOTE: 2 prong for comparison
ME Taylor
F-3
Topcon/ISI 3-pin style Filaments - Package of 10
275.00
10
27.50
EB Sciences
Has several filament types
Type AR
"The Energy Beam Sciences exclusive AR tip represents the state of art in filament technology. This special loop was developed for applications which demand the ultimate in mechanical stability and operating life. It is particularly recommended for use in multi-user environments and teaching laboratories. Its etched taper loop configuration and unique tip geometry enhance contrast and brightness, even at low kV. We can provide the AR loop mounted on any type of filament base. Whatever your application, you should see enhanced performance with the AR loop, when compared with the standard loop filament supplied by the EM equipment manufacturer."
Standard Loop
"Energy Beam Sciences Standard Loop Tungsten Filaments are designed to conform to Original Equipment Manufacturers' specifications across the industry. Our filaments are individually manufactured with careful attention to detail, maintaining their precise tip geometry and using superior assembly techniques and stringent quality control for consistency and dependability in even the most demanding applications. At Energy Beam Sciences, we offer cost effective, reliable solutions for these and all of your EM consumable needs. Please call our e-Beam product specialist today to find out more about our quality products!"
JM electron gun
Original unit that SEM came with.
XXX: supposedly this SEM takes a "three prong filament" and in fact has a three contact base. What is difference between the two types?
Wehnelt assembly: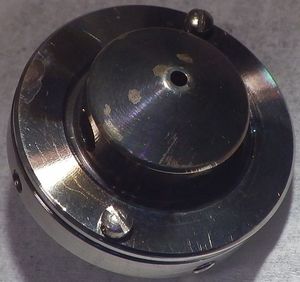 Base it plugs into: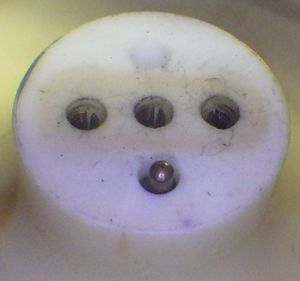 Taking off top retainer: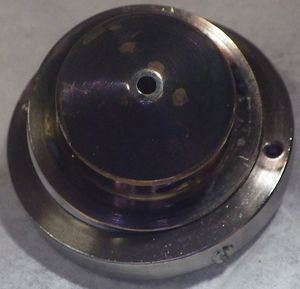 Removing the Wehnelt:
Note that the filament is slightly twisted to form the tip. Also, its burned out
Wehnelt bottom: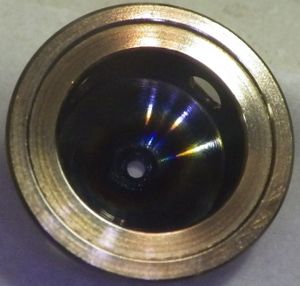 Side of the filament assembly
Filament tip: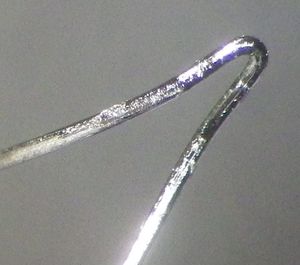 Everything together:

lapointe2
http://members.tm.net/lapointe2/scanning_electron_microscope.html
Great resource on this model. Unfortunately, links to pages are hidden throughout the text so I've tried to index it a bit better. I also have mirrored the site in case it disappears:
Like a user manual: read it
DIY chiller
These are less about the SEM and more about his particular logistics:
Hooking up his roughing pump
Hooking up his electrical lines
Cleaning
Wenol metal polish recommended for cleaning. MSDS lists
Ammonia Solution 25%: 1-5%
Kerosene 200-230: 10-20%
White Spirit 150/200N: 10-20%
Aluminum oxide (pigments): 25-35%
Coco fatty acid diethanolamide: 5-15%
Water: 35%
https://www.tedpella.com/material_html/polish.htm#Anchor-47857
"Wenol® is widely used as cleaner and polish for electron microscope applications, ion beam systems, vacuum coating systems and general lab applications. Wenol® has been originally formulated for use on hard metal surfaces such as stainless steel. It can be used to clean and polish hard metal parts for vacuum systems. The carrier fluid dissolves in most hydrocarbons and is easily removed. Wenol® is petroleum based and does not contain silicones. It is not recommended for use on soft metal such as aluminum."
Ted Pella also has Unipol…not sure when to use one vs the other. Generic Wenol?
Aluminium oxide: 20-40
Ammonia solution: 0.1-5
Destillates (petroleum), hydrotreated light: 20-40
Naphtha (petroleum), hydrotreated light: 2.5-10
read somewhere 100ml ~= 3.4oz Wenol
o-rings
Drawings in this section are from Lapointe's website
may consider replacing o-rings as the vacuum is sub-par. By the time I disassemble everything might as well replace them
"o-rings are labeled with their aerospace standard AS568A size"
High vacuum assembly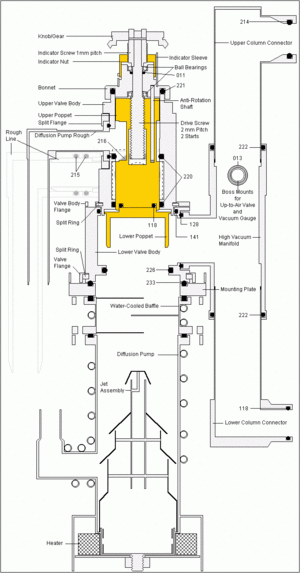 Abbreviations:
ID: inner diameter
OD: outer diameter
CS: cross section
What is difference between nominal and actual size?
| AS568A size | ID | OD | CS | Qty |
| --- | --- | --- | --- | --- |
| 011 | 1 | | | |
| 013 | 1 | | | |
| 118 | 2 | | | |
| 128 | 1 | | | |
| 141 | 1 | | | |
| 214 | 1 | | | |
| 215 | 2 | | | |
| 216 | 1 | | | |
| 220 | 2 | | | |
| 221 | 1 | | | |
| 222 | 2 | | | |
| 226 | 1 | | | |
| 233 | 1 | | | |
Valve assembly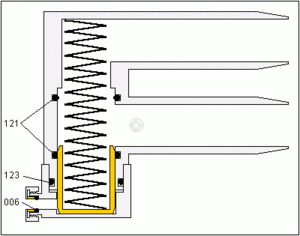 | AS568A size | Qty |
| --- | --- |
| 006 | 1 |
| 121 | 2 |
| 123 | 1 |
Air valve
Relieves chamber to atmosphere for exchange while still allowing DP to keep hot
"I will not buy this air valve, it is scratched"
needs to be turned down on lathe or replaced
JM unit
CKD
MODEL SMC-01-23
VOLTS
Hz 50/60
SERIAL
WATTS 3
ORIFACE
TYPE PT 1/8
PRESS
SPECIAL
CHUKYO ELECTRIC CO. LTD Nagoya Japan
has air filter on it
lapointe unit
has hose connector instead of air filter but otherwise same unit
EDAX
The extra vacuum ports are likely intended for EDAX and in fact I did find one such unit.
govdeals
All images in this section are from GovDeals
"You will be bidding on a International Scientific Instruments Model Super III A Scanning Electron Microscope. The unit was purchased in 1979 and converted to digital and updated in 1999. This unit comes with a Robinson Backscatter detector, Gresham Titan X-ray pulse-processor, 4PI digital imaging attachment, control computer and software. The agency is reporting the unit is operational except for the X-ray detector analyzer and the software is up to date (uses Macintosh OS9). There are miscellaneous spare parts, filament assemblies, a manual, schematics and a TMC anti-vibration platform is included…located on the Winthrop University Campus in Rock Hill, South Carolina."
This is by far the most pimped out unit I've found so far:
Computer image capture
Maybe computer control?
Robinson Backscatter detector (is that the special PMT assembly?)
Gresham Titan X-ray pulse-processor (for the EDS?)
Pump
How many L/min recommended?
References
uccs.edu PES415 has a sort of instruction manual: [1]
JM blog posts
Units for sale with pictures