Hamamatsu
This page was created to understand some Vidicon repair and interchanagability

C2400-16 1-inch Super- Harpicon. 400 to 700 nm, 0.001 to 10 lux
Vidicon
Heads:
Model
Connector
For
Tube
Resolution
Sensitivity
Yoke
Notes
C790-10
X-ray
No silkscreen

Metal:

1206341

IDI USA

XVC-492E
C2400-03
IR

800-2100 nm

400-1800 nm

1"
720 x 576

600 line

0.1-10 lux
Lens: Xenoplan 1,4/23 mm

Advertised in new catalog as the only modern IR vidicon supported

C2400-05
UV

250-750 nm

1"
700 line
0.01-1 lux
C2400-07
Visible microscope
Newvicon / Matsushita
Advertised in new catalog as the only modern general vidicon supported
C2400-08
400-850 nm?
1"

?

XVC-492E
McMaster

Fiber bundle, fluoroscope, or something weird like that. Has electrical connection?


Tube hard to get to, but could take out if really determined. Would need to remove either (fiber bundle connector?) or most of the electronics

C2400-53
IR

400-1800 nm

2/3"
550 line
0.1-10 lux
C2400-55
UV

250-750 nm

2/3"
700 line
0.01-1 lux
C2741-
400-850 nm
1"

NEWVICON

S4076

MATSUSHITA

McMaster weird poorly marked unit


Much faster tube response than C2741-03


S/N 0131K

C2741-03
IR

400 to 1800 nm

400 to 2200 nm

N2606

N2606-06

1"


Mc: N2606-10

600 horizontal


EIA: 525x485

CCIR: 625x509

S/N: 46 dB p-p/rms
KV-5767
Datasheet


McMaster has a few

Dage LSC-70 replacement suggests could be PbS tube coating. Has some N2606 curves

C2741-03B
1800 nm
N2606-02
22/01/2008

£8,340

Package includes Camera Head, Controller Unit,

Camera Cable & BNC to BNC Cable


Also:

PC2Vision Frame Grabber Card & Cable Set

Wasabi for Video Acquisition & Analysis Software
C2400 and C2741 seem generally compatible.
https://www.artisantg.com/info/PDF__48616D616D617473755F43323430305F43616D6572615F446174617368656574.pdf
Board
Label
Used on
Note
NSVP04-1
DEF FOCUS
C2400-08

C2741-03

113611B
PREAMP
C2741-03
113611A
PREAMP
C2400-08
0XVP02-2
DEF FOCUS
C790-10
0XVP01-2
PRE AMP
C790-10
0XPPOI-2
HV-POWER
C790-10
Tube
The one C2400 camera I have has a "Vidicon camera fitted with an N2606-10 or N214 lead sulphide tube."

Potential IR vidicon tubes:
Matsushita 25PE14
Mullard XQ1443

NEWVICON® television camera tube with a photoconductive target composed of cadmium and zinc tellurides featuring high resolution and an extremely high sensitivity extending into the near infrared region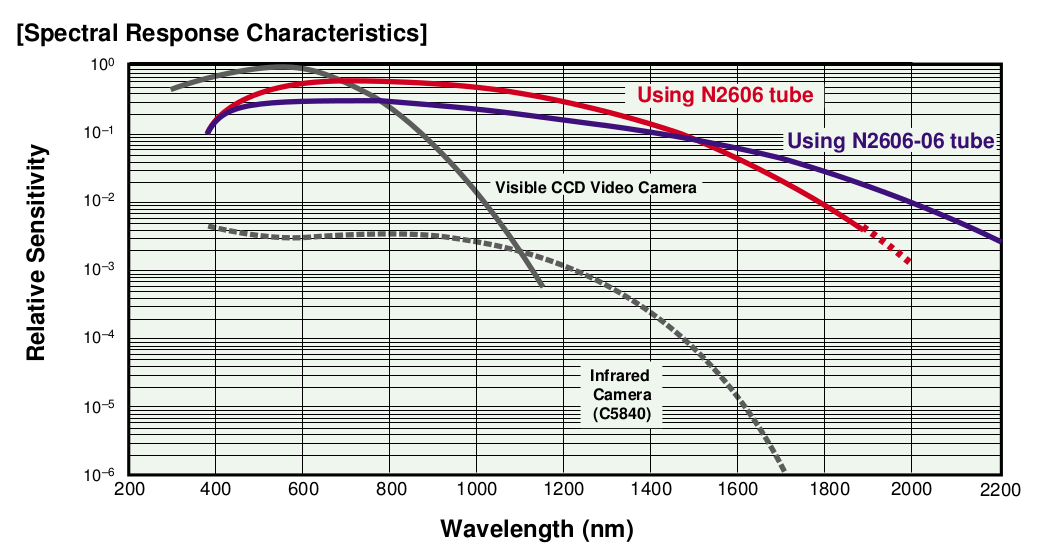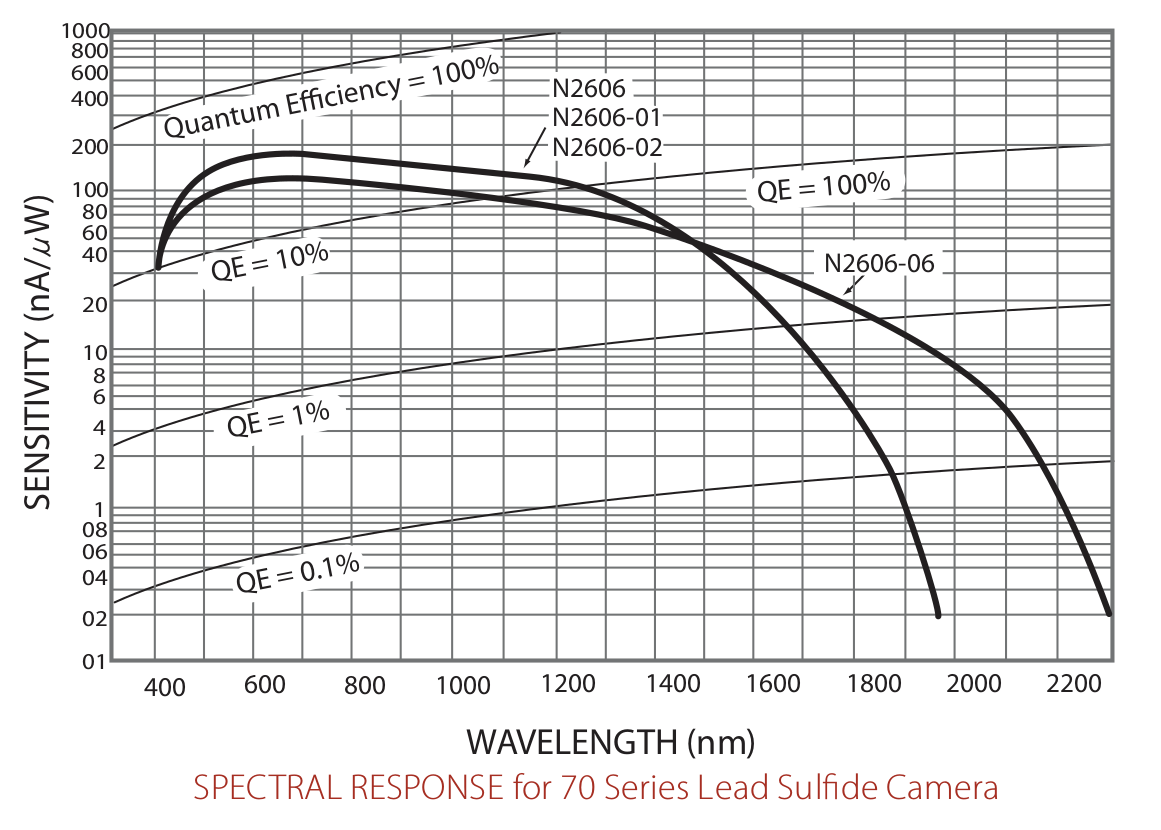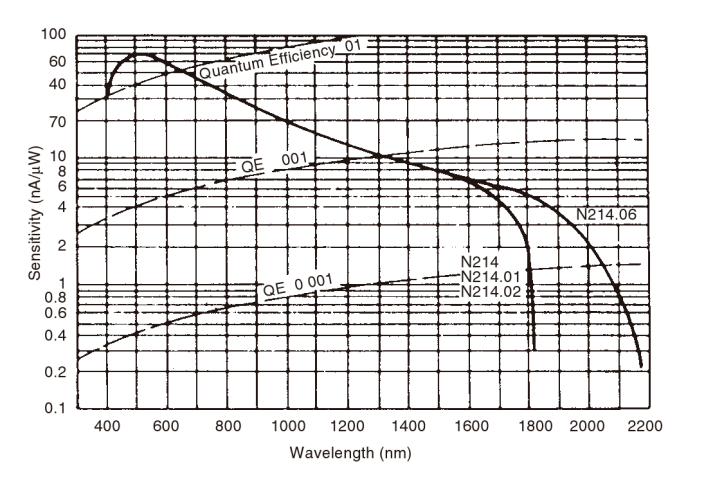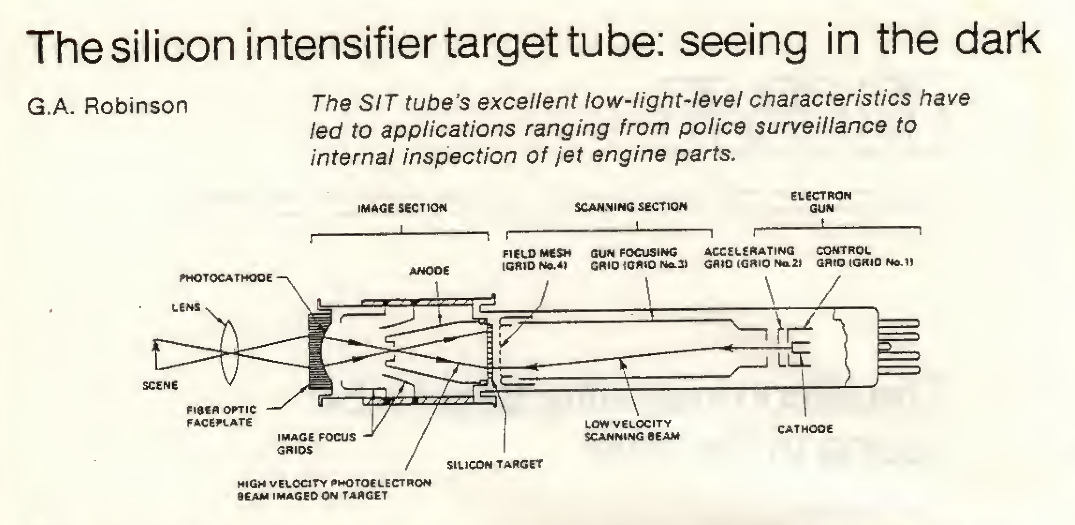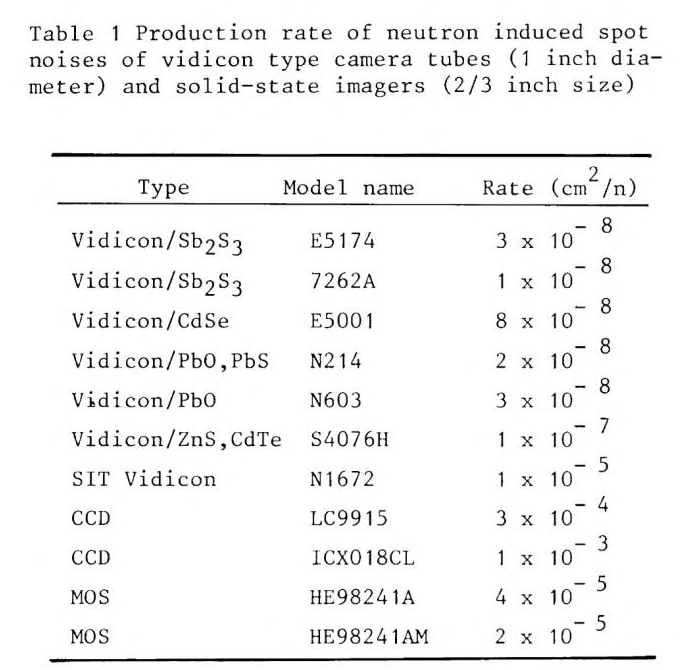 C790 X-Ray camera
moved from https://nucwiki.org/wiki/index.php/Hamamatsu_C790
mcmaster: got "X-RAY TV CAMERA" off of eBay missing cable. Both the camera and controller are marked C790-10 Was able to source something close to the needed CMC connectors and was able to retool for the proper cable. Now need to wire between them so I can boot the unit
Some relationship to Softex. Maybe they are used in Softex machines?
All wires on connector are used (at least on camera side).
Japan imports DDK JMSP2528 connector 025-028 silver-plated 28 core aviation plug 4 thick needle 24 thin needle
"Hamamatsu Softex X-Ray TV Camera controller C3205": seems to use the same connector
"Hamamatsu C6086 X-Ray Camera Controller": for CCD I think, not compatible
Head: MODEL C790, TYPE 10, SER.NO 88054284
Controller: MODEL C790, TYPE 10, SER.NO 88074380
Camera
Appears to be vidicon? Hard to see...in a black sub-enclosure. Enclosure is marked
YOKE ASSEMBLY XVC-492E HC-01 CHUOMUSEN CO., LTD. MADE IN JAPAN 378024
Boards:
OXVPOI-2 PRE AMP
OXPPOI-2 HV-POWER
OXVPO2-2 DEF FOCUS

Maybe 22 or 24 AWG on connector. Power pins don't appear to use a larger gauge than the rest.

CCD
Model
Connector
For
Tube
Resolution
Yoke
Notes
C5840-10: EIA

C5840-11: CCIR

IR

400 to 1650 nm

2/3"?
Datasheet

Datasheet has graph comparing to C2741-03. TLDR: this is much less sensitive

C2741-63 camera controller
12PinCCD camera connector
RS-232C
12PIN cable 5 m A3194-01


C6086 Series X-Ray CCD Camera
25 μm (C6086-03, 04)
30 μm (C6086-53, 54)
43 μm (C6086-13, 14)
62 μm (C6086-23, 24)
Effective X-ray tube voltage range
10 to 100 kVp

https://www.artisantg.com/info/PDF__48616D616D617473755F43323430305F33325F33355F446174617368656574.pdf
https://www.artisantg.com/info/ATGckodl.pdf

C2400-77 2/3-inch Interline CCD
C2400-75 1/2-inch Interline CCD
McMaster
2019-12-09
Summary
-Composite capture working okay
-Pre-amp currently in iffy causes flicker
originally in "bad"
-Both C2741-03 tubes are slow response
-Each C2741-03 tube has a defect as currently used
Esj 54: poor SNR
Esj 31: uneven illumination
can be trimmed?
I believe they exhibit the same defect no matter the unit put into
-All 3 units use KV-5767 yoke assembly
-Pre-amps look like they are interchangable between C2741-03 and C2741-, but appear not to be
-Different tubes
C2741-03: N2606-10
C2741-: S4076
-Haven't touched C2400
-Haven't compard to
https://www.ebay.com/itm/4-Used-Tubes-3-Newvicon-S4076-Vidicon-Tube-One-RCA-8507A-Untested-But-Guaranteed/383310410334?hash=item593f14b25e:g:ByAAAOSwCL9d6HFD
4 Used Tubes-3 Newvicon S4076 Vidicon Tube One RCA 8507A Untested But Guaranteed
probably should get these to play with

2019-12-11
Swapped C790-10 tube into C2741 and it doesn't seem to produce any significantly better results. I was able to tune better, but significant defects still present. Took a video, maybe post
Several x-ray experiments on S4076. Its either not x-ray sensitive or very weakly sensitive. N2606 might be more sensitive though
TODO: review https://www.youtube.com/watch?v=FrXVpgP6IQw
2019-12-13
Comparing misc controllers:
C790-10 X-RAY TV CAMERA, S/N 88074380
C2741- CAMERA CONTROL UNIT, S/N 0131K
C2741 CAMERA CONTROLLER, S/N 091264
C2400 CAMERA CONTROLLER, S/N 931545
"CAMERA CONTROLLER"
These appear basically identical in every regard I can tell except the C2741, which is literally a sticky label different
Have different PCB revs, but this seems more of circumstance than an actual design difference
Suggests C2741 was analog legacy design and C2400 is functionally equivalent digital design
Feature
C790

88074380

C2741

0131K

C2741

091264

C2400

931545

Construction
Analog

Older

Card cage

Cable wraps


Cage

SHADING

BOOS TER (ASC)

INVERTER (ASC)

SYNC

Digital

Newer

Main board
Multi level

Top: OXVP03-2 PROCESS

NSVP10-3

CAMERA CONTROL

113632B PROCESS
113632C PROCESS
Display
None
Digital

OK

Digital

Bad

Swapping other 22CV10AP fixes

Camera connector
Top row fully populated
Missing pin on top row
Tuning
Screwdriver pots
Knobs
AGC connector
No
Labels almost implying there used to be a switch there
Transformer
Visually different

C790-10J

C2400AT.J
C2400CT-UJ
C2400CT-UJ
Power PCB
CB0094B
CB0193
CB95Y27
CB95Y27