Ezlaze
John McMaster's notes from repairing and calibrating misc units. For more information contact john@mcmaster.tech
Note: New Wave Research was acquired by Electro Scientific Industries, Inc. (ESI)
Tilt plate
These often get separated from units so we made some reproductions. Want one? Contact john@mcmaster.tech

Variations:
An LCS-II: observe 2 mounting screws
An ezlaze: observe 3 or so mounting screws

An LCS-II unit:
Ball bearing

4.73 mm (0.19" => probably 3/16")

Pivot set screws

Qty: 2
Use 2.5 mm driver
Special machined screw w/ bearing on end
Bearing: 3.3 mm OD (0.13")
Thread: M5
Total length: 9.3 mm
Threaded length: 7.2 mm
Material: stainless
Kevin: glue ball bearing on the end

Spring SHCS

Qty: 2
M4 x 20 mm
Material: stainless
Belleville washers: 14

Arrange as 7 pairs stacked against each other
Maybe this would work?
Material thickness: 0.46 mm (0.018")
Total thickness: 0.67 mm (0.026")
ID: 4.33 mm (0.17")
OD: 8.4 mm (0.33")

Set screws

Qty: 2
Use 2.0 mm driver
M4 x 8 mm
Material: black steel
Objective
Canonical objective for these is Mitutoyo M Plan Apo. Could something else work?

Candidates:
Search terms

"M Plan Apo"
LWD objective
long working distance objective

Mitutoyo M Plan Apo
B&L Industrial

Wrong thread
Not infinity
...but cheap and might be good enough

Optem
Seiwa
Sigma Koki
USMCO
USMC
V-Technology
New Wave

As in NWR? Are these intended for ezlaze?

Correct Tokyo (Seiwa)

To test:
Inspect objective
Run image quality test (MTF?)
Long duration test...maybe 1000 shots at max power?
Inspect objective
Run image quality test (MTF?)
Cabling
DB25
Has a slot instead of a round cable hole
3M 3485-2300

Power connector
Got blank shell and cut slot w/ hacksaw. Then melted new plastic in to close up the side
Noisy/slow crystal/filter selection investigation
Symptom: the filter wheel that contains wavelength selection and high/low takes longer to settle than usual and overshoots a few times before settling down
Thoughts:
Motor problem?
Pot problem?
PID parameters can be adjusted? Are there any trim pots?
No spare units to scavenge parts off of
Motor
Repair / calibration
Uneven cut
 With the uneven cut, is possible the laser is misalign and will need to
 be optimize and realign.  The possible misalignment can cause by the
 Q-SW (pocket cell) is deteriorating and may need replace.  For the XY
 aperture shutter, we will replace both Motors and Potentiometer.

Flashlamp replace
Flashlamp rated for 30 million shots. Skeptical replacing it was going to help, but tried anyway. Didn't seem to improve power output. Maybe its the uneven cut issue above?
7/32" allen key for side of flashlamp housing
2 mm for screwing cover in for the long buried screw near the HV generator
1.3 mm allen for the short ones
mcmaster original lamp says: LL7039/88
Lamp part numbers:
New Wave Research 0002-0036
LL7039

Printed on lamp: LL7039/88
Who's part number is this?
Total length: ~78 mm
Arc length: ~46 mm
Diameter: ~4.97 mm
Vendor / part
Date
Price
Lead time
1 EU, opt 1
2019-09
£122.00
10 weeks
1 EU, opt 2
2019-09
£185.70
10-12 weeks
1 US
2009-12
$215
2 days

May be wrong part. Not sure if billing is correct

2
2019-09
$245
2 days
3
2019-09
$197.36
2 days
Spare lamp box says "Lamp no: LL7039"
Suggested vendors:
2019-09-25
Visit Kevin, got:
2x ezlaze laser head
1x ESI power meter head
1x power meter head w/ controller

Tests on my ezlaze:
DB25 only: motors twitch at startup. Interlock lit red, cannot turn on
Both connectors: motors twitch at startup. Interlock lit red. However, press "ON" moves from red interlock to yellow emission
When hitting "ON", a loud relay is heard in the controller
Kevin-1 (K1):
Missing tilt plate
Missing tilt plate screws
No camera adapter
Motors do not twitch at power up
Unable to bring out of interlock
Missing shutter
LCSII....ah not exactly the same
Kevin-2 (K2)
Motors twitch at startup
Bent power connector. Was able to bend back into shape
Mounting plate screws but no mounting plate
Has shutter
EZLAZE 532/355
Beam profile uneven (as seen through laser glasses). TODO: point at camera?
Sensor 3" from laser, 10 sec average

500L: 65 uJ
1000L: 124 uJ
500H: 192 uJ
1000H: 382 uJ

ESI power meter
Battery: Everyday 504, NEDA 2220, 15V
2019-10-28
Documenting backlog. Especially around Pockells cell / EOM repair
Open question about q-switch polarity. Tried putting my (mostly bad) EOM in my laser forwards/backwards and positive/negative polarity. Only forward positive configuration fires. Not sure if polarity reversal is bad
Scrapped ezlaze Kevin had in dire shape to get sacrificial q-switch. Housing very different, but core looked the same. Unfortunately, does not seem to work in my original laser. Also tried reversing it, but didn't help. NOTE: Kevin has a second identical loose EOM assembly. We should try it
Played briefly with transferring fluid from sacrificial larger EOM. Had issue with bubble, also still unclear if fluid matched correctly

Pockels cell research:
Probably made by Qioptiq, but may be branded Gsanger or LINOS
Due to a series of acquisitions, Qioptiq
has an impressive history and pedigree, benefi ting
from the knowledge and experience of LINOS,
Point Source, Rodenstock Precision Optics, Spindler
& Hoyer, Gsänger, Optem, Pilkington, Avimo and
others.

Did a lot of research on the fluid. Index matching fluid (IMF) is required due to the high efficiencies required to make a cavity resonate.
https://microwiki.org/media/qti/qti_an_dry_pockels_cell_vs_wet_pockels_cells.pdf
Great paper on IMF choices
TLDR: FC-43 for most applications, but more exotic choices if you don't care about carcinogens and/or cost

Ordering:
quantumtech.com: "We have index matching fluid $175 for 30ml bottle and available from stock. We charge for repair would be approximately $400. "
Tried to order FC-43 from Sigma, but they denied my order

https://www.sigmaaldrich.com/catalog/product/sial/77299
Heptacosafluorotributylamine (Fluorinert™ FC-43)
5 mL: 52.60
25 mL: 235.00
ezlaze
mcmaster unit
IOA unit
TODO: add pictures (if someone gives them to me...)
eBay ntxsupply unit (EZ-LAZE 532/355)
"New Wave Research EZ-LAZE 532 / 355 Power Supply & Control Panel & Foot Pedal"
Need power supply, this unit sounds very similar to mine and has the right connections. In negotiations to try to get this.
Overview: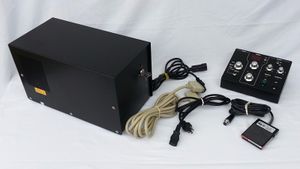 Control box:
Power supply:
eBay outback6 unit (EZ-LAZE 532)
"G102838 New Wave Research EZ-LAZE/532 Laser w/Power Supply & Controller"
A possibility, but its a complete system which means it will command a higher price...probably harder to break it up just to get the PS
Overview: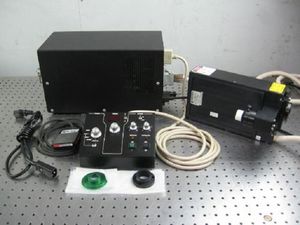 Controller: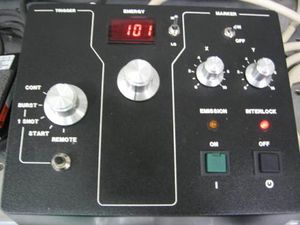 Pedal: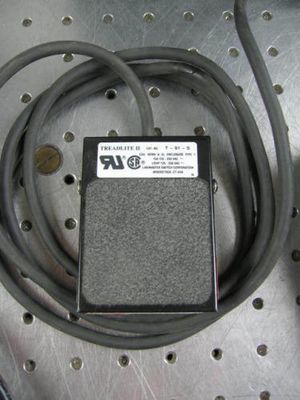 Power supply:
Laser head:
eBay express_test unit (EZ-LAZE LCS-II 532/355)

System looks a little different
ezlaze2
cl.cam.ac.uk
http://www.cl.cam.ac.uk/~sps32/laser_cutter.pdf
Has a great teardown and some really useful info about system problems
ezlaze3
Source: Main Features
   Air-cooled architecture

No cooling water
Compact, Lightweight
No maintenance required
   Selectable wavelengths allow cutting
   and machining of a wide range of materials:

1064 nm, 532 nm, 355 nm or 266 nm
   3-axis control of cut size and orientation.
   From 2μm x 2μm (with 100X objective)
   to 50μm x 50μm (with 50X objective).
   Rotation through 180°.
   Simple operation via remote control box
   with a 6.5cm x 7.5cm LCD screen displaying
   menu-based commands or via RS232 interface.
   Precise energy control over a wide range.
   Internal LED spot marker.
   Compatible with most major brands
   of FA microscopes (Mitutoyo, Motic, Seiwa).
   3 Operating modes:

Single shot
Continuous (1 Hz)
Burst (max. of 10 sec. at 5 Hz).
Standard configuration includes:
   Laser Head
   Standard Energy
   XY Shutter (Std. Resolution)
   Power Supply
   Remote Control
   2.4m umbilical
   Video spot marker
   Foot switch

Options:
   High Pulse Energy
   Rotating Shutter
   High Resolution Shutter
   Motorized Polarizer
   Horizontal Mount Laser
   Head with Robot-length
   Umbilical
   Internal Spot Marker
   Microscope & Accessories

QuikLaze
I asked for a ezlaze manual and was given a quicklaze manual...w/e. Looks like they share a lot of common components
Interesting excerpt from manual: The QuikLaze is designed to operate on specially modified Mitutoyo FS60Y and FS50 and Ready products A-Zoom and S-Scope microscopes. Become familiar with your microscope before attempting to install the QuikLaze.
The quicklaze power supply looks pretty similar to the ezlaze power supply...possibly compatibile
eBay surplusexiting complete 532
Overview:
Power supply:
Controller:
Head:
eBay surplusexiting prism_electronics2 bad power supply
eBay s.scherets
A less common stand alone system. Rackmount power supply
They called it a quicklaze but I think its actually an ezlaze?
References